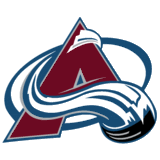 SJ 0-0-0 0pts
Avs 0-0-0 0pts
Game Time: 10:00 PM ET
Venue: Pepsi Center Denver, CO
Injuries: Col - D Tom Preissing (knee), RW David Jones (bruised chest). SJ - none
This game will feature many 1sts. It's the 1st game for both teams this season, 1st game for Avs rookies Matt Duchene and Ryan O'Reilly, 1st game for new goaltender Craig Anderson in an Avs uni, and most importantly for the Avs, 1st game without long time captain, Joe Sakic. This is obviously the biggest story line of the game with Super Joe's #19 going up to the rafters in Pepsi Center. As
Adrian Dater mentioned
, there will be a pretty nice guest list including Peter Forsberg and Mike Keane to name a few. Also, sure to be in attendance is former Avs blueliner Rob Blake, who just recently was named new captain of the Sharks. It is sure to be a tremendous ceremony for the best player this franchise might ever see.
While the Sakic Ceremony will take the biggest spotlight, there will still be a game played. While not much is expected of the Avs, one would think that they would at least step up their game for their former captain. The Sharks, on the other hand, have so much to prove this season and they will look to get off to a hot start to the season. They finished last season with a league best 117 points but ran into a red hot Ducks team in the 1st round of the playoffs. A team with players labeled as playoff failures (Hi Mr. Thornton!), the Sharks made some significant offseason moves. GM Doug Wilson said there would need to be changes and the first move he made was stripping the captain C off Patrick Marleau's jersey. It will now be worn by Blake with alternates Joe Thornton and Dan Boyle. The most recent move made was acquiring super diva Dany Heatley from Ottawa for Milan Michalek and Jonathan Cheechoo. It's hard to imagine the Avs will be able to hang with the Sharks but there may just be that extra spark being opening night and seeing Joe's number go up.
One thing to keep an eye on is the kind of system new coach Joe Sacco runs. With the lineup he has put in place, each line will have at least 1 tough guy on it with the exception being the top line of Wolski, Stastny and Hejduk. Look for Sacco to use a strong forecheck and really have his players finish their checks making the game a tough one for the Sharks' skill guys. As long as the guys go out fighting and not just laying back getting beat, the game will be considered a success despite the outcome.